Guided 25 Day North & South Island Anniversary Tour - New Zealand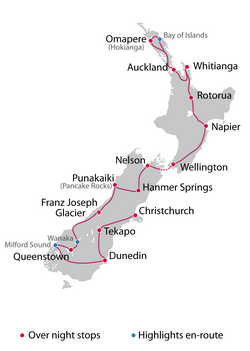 Kesto: 25 Päivät (noin)
Paikka: Auckland, NZ
Tuotekoodi: 25DayNorthAndSouthGuidedAnniversary
See the best sights in New Zealand and feel as if you have visited six different continents in three weeks. From tropical rainforests and idyllic beaches, to glaciers and snowy peaks. You will see Saharan-like sand dunes, volcanoes and primeval fiords along the way.

Ride through roadscapes that most motorcyclists only dream of, take on East Cape, Milford Road, Lewis & Lindis Passes. There is a reason Haast Pass is called 'Motorcycle Heaven', most cameras can't capture its beauty, and the road is incredible to ride!

If you like to do things properly and don't want to miss out on anything that New Zealand has to offer, then this is the motorcycle tour for you.


Distance 4680 km / 2908 miles


Bike Options
Band A – F700GS, F800GS, F800GT
Band B – R1200GS, S1000XR, R1200RS
Band C - R1200RT, K1600GT, K1600GTL

Please Note: All tour prices are PER PERSON in New Zealand dollars and include GST (Goods & Services Tax)
Whats Included
Motorcycle of your choice see our fleet here
Panniers and top box
Soft lift out luggage bags
Motorcycle Insurance
Good quality accommodation
Welcome dinner and farewell dinner
Guide on a motorcycle
Guide in a support vehicle
Airport transfers
Tour booklet with route and maps
Not Included

Meals and drinks - except welcome and farewell dinners
Fuel
Airfares
Personal travel insurance
Gold Cover
Bonus

Paradise Motorcycle Tours NZ Cap
Milford Sound Cruise, South Island, NZ
Visit to the Burt Munro 'World's Fastest Indian' display in Invercargill
Cook Strait Ferry Crossing
Itinerary

Day 1
Auckland to Omapere (Hokianga) 257km: We'll leave the city of sails and head North. After a brief ride on the
motorway we'll ride into the country, your first taste of winding New Zealand roads and no traffic. We'll stop at Dargaville for lunch, and then onward through the Waipoua Forest and a visit to Tane Mahuta, a 2,000 year old sacred Kauri Tree.
Day 2
Omapere (Hokianga) to Taipa Beach 329km: We'll cross the Hokianga Harbour by the Rawhine ferry and then head
towards 90 mile beach. A lovely twisty up and down road will lead us all the way to Cape Reinga, the most Northernmost point of New Zealand. We'll see the lighthouse and the meeting of the South Pacific and the
Tasman seas. Retracing our steps we then ride to our overnight stop at Taipa Beach.
Day 3
Taipa Beach to Paihia 120km: We'll get to Paihia today through beautiful farm land and re-crossing the Hokianga Harbour. All the beauty of the Bay of Islands awaits us.
Day 4
Free day in Paihia: Rest or Ride Day to explore the Bay of Islands. Take the ferry and explore historic Russell, Kororareka, the first capital of New Zealand and notorious for being a whaling station and 'the hell hole of the
pacific'. It's much different now! You can go on a cruise through the sheltered waters of the Bay of
Islands on Dolphin Seeker, a purpose built dolphin and whale watching catamaran. Keep a look out for common and bottlenose dolphins, whales and other marine life.
Day 5
Paihia to Auckland 260km: Crossing on the Opua vehicle ferry to Russell, we ride South through lovely twisty roads and then pass through Whangarei before crossing the Brynderwyn Hills and heading to Matakana for lunch. Riding onward through the Dome valley we'll arrive in Auckland, the 'City of Sails'.
Day 6
Auckland to Whitianga 187km: We head south out of the city before crossing the Hauraki Plains and discovering the Coromandel Peninsula. An area of outstanding natural beauty with fantastic roads. Stay overnight in the beautiful sea side village of Whitianga and have dinner overlooking the marina.
Day 7
Whanganui to Rotorua 232km: Ride the circuit around the Coromandel Peninsula - see bush clad hills and enjoy stunning views of the coastline. On the way to Rotorua, we are on one of the most scenic rides in the North Island.
Rotorua is the geothermal hotspot of New Zealand – geysers, boiling mud and volcanic craters and a proud Maori population.
Day 8
Rotorua to Hicks Bay (East Cape) 275km: We leave the bubbling mud behind and head West towards one of the least
populated areas in New Zealand, the East Cape. After passing through Whakatane we ride the coast road with a view of White Island, an active volcano, on the horizon to our left. The road hugs the coastline giving us stunning seascapes.
We overnight in Hicks Bay.
Day 9
Hicks Bay (East Cape) to Napier 399km: We continue south around the beautiful East Cape, stopping at Gisborne
for lunch. We then ride slightly inland through twisty and undulating roads, before we reach vineyards and fruit orchards as we arrive in Hawkes Bay.
Day 10
Free day in Napier: Take a self-guided walk around the city centre to admire the Art Deco architecture - ask for a map at the information centre or at the Art Deco Trust. Join a guided tour of exquisite boutique wineries with the chance to
view some of the best scenery the Bay has to offer, as well as a variety of wineries, an historic woolshed, the charming Havelock North Village, with the must do Te Mata Peak look out and sister city Hastings. Have a swim at Ocean Spa. Relax, re-energise and enjoy panoramic ocean views from the open air, heated and chlorinated saltwater pools and
outdoor spas. www.oceanspanapier.co.nz


Day 11

Napier to Whanganui 307km: First we ride the 'Gentle Annie', an old coach route that climbs up towards the Central Plateau. Its twisty and stunningly scenic curves demands concentration, keep your eyes off the scenery and on the
road…….. After coffee at Taihape we continue inland until we get to State Highway 4, which is just a gorgeous ride that ends alongside the river and Whanganui.
Day 12
Whanganui to Wellington 193km: Ride over the winding Rimutaka Ranges– a favourite route for local motorcyclist just north of Wellington. Follow the coastline where pretty houses cling to the hillsides overlooking the lovely Wellington
Harbour. Explore the capital city and see the 'Beehive' - New Zealand's government building and visit the fabulous Te Papa Museum.
Day 13
Wellington to Nelson 133km: Cross Cook Strait by ferry, and ride the Marlborough Sounds' iconic road - Queen Charlotte Drive. Follow the road through dense pine forests to Nelson, Australasia's largest fishing port, with its unique microclimate. Nelson has the highest number of sunshine hours in the country and is known for its art and culture.
Day 14
Nelson to Hanmer Springs 310km: Ride south over Mt Hope Saddle and through the Buller Gorge. Stop for lunch at the old gold mining town of Murchison then ride the famous Lewis Pass with its world-class mountain scenery. Hanmer Springs, set in a basin of forest clad mountains and home of natural hot springs where you can soak away your aches.
Day 15
A day in Hanmer Springs: A 'Rest or Ride' day. Stay at Hanmer Springs and relax in the thermal pools or take a day trip to Kaikoura. You can go whale watching by boat or from the air. Depending on the season, migrating Humpback Whales, Pilot Whales, Blue Whales and Southern Right Whales may make an appearance. Then enjoy freshly caught
cooked crayfish on the sea shore at Kaikoura.
Day 16
Hanmer Springs to Punakaiki 258km: Ride the Lewis Pass - a fabulous scenic ride and an old Maori greenstone
trail. Stop at Reefton, an old gold mining town for lunch then head to Punakaiki on the wild West Coast. This coastal ride is virtually traffic free with stunning views. See the Pancake Rocks, these incredible rock formations and blowholes
were 30 million years in the making.
Day 17
Punakaiki to Franz Josef Glacier 216km: Reputably 'the best motorcycling in the world' is your next experience
on the West Coast Road. A curvy route through the wild and rocky west coast leading to beautiful native forests and lakes. The West Coast road looks towards the Tasman Sea on the right and Southern Alps on the left. Nowhere else in the world at this latitude have glaciers advanced so close to the coast. These majestic, awe inspiring spectacles are amazing seen from the ground and even more stunning seen from above. A helicopter trip can take you around Mount Cook and land on the glacier - a trip you'll never forget.
Day 18
Franz Josef Glacier to Queenstown 355km: Heading south on the Tasman Coast road - wild and beautiful, stop to
sign a pebble on Bruce Bay - a Kiwi tradition! The scenery changes dramatically to native forest as you turn inland to
cross the famous Haast Pass. Tumbling rivers, waterfalls and winding undulating riding. Again, the scenery changes as you enter central Otago and the Mount Aspiring National Park. Ride beside huge lakes with a background of
snow-capped mountains and cross the highest sealed road in New Zealand, the Crown Ranges and descend into the Adventure Capital of the World - Queenstown!
Day 19
Time to enjoy Queenstown: We'll give you plenty of time to explore and experience the delights of this fantastic spot. There is so much to do here - paraglide, jet boat ride, bungee jump, white water rafting, to name but a few. Ride to the
old Gold mining town of Arrowtown or the fabulous road to Glenorchy alongside Lake Wakatipu. Have lunch at the Gibbston Valley winery, just down the road from the A J Hacket Bridge Bungee. Eat at The Skyline restaurant at the top of Bob's Peak – you can look over Queenstown and watch the sun set over the mountains.
Day 20
A second 'Rest or Ride' day in Queenstown, because just one is never enough!
Day 21
Queenstown to Te Anau 171km: Head toward Te Anau in Fiordland today. Fiordland is 1.2 million hectares of remote, primeval beauty. This is one of the few places on the planet of untouched wilderness. Waterfalls tumble hundreds of metres into pristine forested valleys. The mirror surfaces of the fiords reflect the majestic towering mountains
enclosing them, dolphins, seals and Fiordland crested penguins make their home here. This is where the word 'silence' takes on a different meaning. Another great trip is the Te Anau glow worm caves, accessible by boat, if you wish.
Day 22
Te Anau to Milford Sound (Te Anau) 234km: A fantastic ride along the shores of Lake Te Anau, then through the
famous Homer tunnel – carved out of the rock by hand in the 1930s. Emerge the other side of the tunnel to stunning mountain scenery and twisting roads. Keep an eye out for the cheeky, very intelligent Kea Alpine parrots. Milford Sound cruise (included on your tour) cruise is 2 hours.
Day 23
Te Anau to Invercargill 158km: We head to Manapouri, and then inland and onto the Southern Scenic Route. Mainly deserted roads lead us to the tiny town of Tuatapere for a welcome drink and sweet treat. From here we ride briefly beside the sea, our first view of the Southern Ocean, not much between here and Antarctica. We arrive in Invercargill to see the Burt Munro collection, Motorcycle Mecca and transport World.
Day 24
Invercargill to Aoraki / Mt Cook 433km: Heading North we ride alongside Lake Wakatipu and stop for a break in
the outskirts of Queenstown. Then its onto Roaring Meg and the town of Cromwell. From here we head into the wilderness of the Lindis Pass. We then ride through a wide Alpine Pass and alongside Lake Pukaki to Mount
Cook.
Day 25
Aoraki / Mt Cook to Christchurch 330km: Lake Tekapo offers breathtaking views of Mt Cook, New Zealand's tallest
mountain. At the Church of the Good Shepherd, admire the bronze statue of a sheep dog, and views of the turquoise lake. Ride on to Christchurch via Burke's Pass, Mount Hutt and the Canterbury Plains. Tonight we'll celebrate our tour in the unique Paradise way…………..